Pumpkin Pie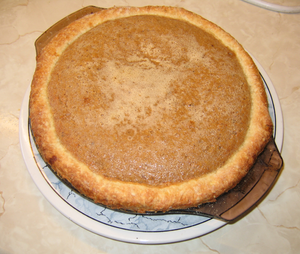 For a 22cm pie dish (9 inch) I used the lid of my casserole dish.
Pastry Ingredients
Filling Ingredients
Pastry Method
Rub the butter into the flour until breadcrumbs
Mix in the sugar and lemon zest.
And the egg and a dash of milk, adding more milk as required till the mixture binds together nicely.
Roll out and stick it in the pie dish.
Filling Method
Pre-heat the oven to 180C/350F/Gas 4.
Use a shop bought sweet crust pastry case, about 9 inch/23 cm diameter and 1½ inches/4 cm deep.
To make the filling, steam the pumpkin then place in a coarse sieve and press lightly to extract any excess water.
Then lightly whisk the eggs and extra yolk together in a large bowl.
Place the sugar, spices and the cream in a pan, bring to simmering point, giving it a whisk to mix everything together. Then pour it over the eggs and whisk it again briefly.
Now add the pumpkin pureé, still whisking to combine everything thoroughly.
Pour the filling into your pastry case and bake for 35-40 minutes, by which time it will puff up round the edges but still feel slightly wobbly in the centre.
Remove the pie from the oven and place the tin on a wire cooling rack. Serve chilled (stored loosely covered in foil in the fridge) with some equally chilled créme fraïche, but warm or at room temperature would be fine.
Notes
I didn't have soft brown sugar, so I used demerara.
I didn't have icing sugar, so I used granulated sugar.