Physalis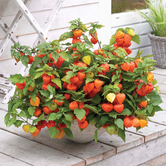 Bought from Thompson & Morgan :
Height 75cm. Plant 90cm apart.
A spreading perennial with triangular foliage with nodding, small cream flowers, followed bright orange scarlet berries enclosed in richly coloured papery cases.
Instructions from the Thompson & Morgan web site :
Pot up physalis plants and grow on in a cool frost free position. When plants are well grown and fully rooted into their pots, acclimatise them to outdoor conditions over 7 to 10 days before transplanting them into borders and containers. Grow Chinese lantern plants in any moist, well drained soil, in full sun or semi shade.
Feed and water groundcherry plants regularly until plants are fully established. After flowering leave the stems intact to allow the edible fruits to develop. Caution: All parts of physalis are harmful if eaten except for the fully ripe cape gooseberry fruits. Contact with physalis may irritate the skin and eyes Caution: harmful if eaten, irritant to skin and eyes.