Tomato
Type: Vegetable
Varieties
Alicante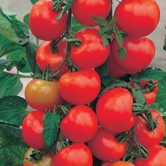 Delicious fruit of medium size. A normal, good, red tomato.
Cerise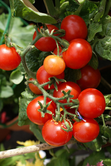 A small sweet red cherry tomato
Costoluto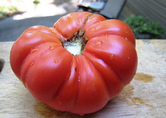 Italian favourite renowned for its flavour. The large irregular ribbed fruits are ideal for salads or for slicing in sandwiches.
Gardener's Delight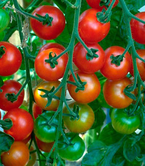 A popular established favourite with large cherry sized fruits and a great sweet flavour
Legend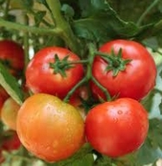 Blight resistant. Beefsteak.
Marmande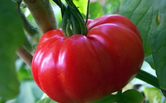 Large irregular shaped Beefsteak with delicious flavour and few seeds. Suitable for greenhouse or outside.
Matina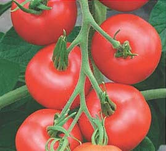 Medium sized. Greenback free.
Moneymaker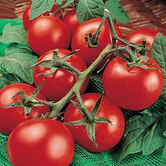 Popular. Easy to grow, standard tomato.
Red Pear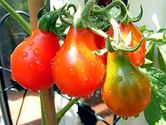 An unusual variety producing many clusters of small, teardrop shaped, delicious sweet red fruits
San Marzano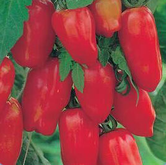 The blocky, plum shaped, fleshy fruits are a classic addition to Italian foods. Great when eaten raw or used for puree and sauces
Tamina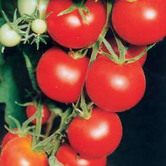 Medium size, large crop. Suitable for greenhouses or outside. Early ripening with outstanding taste.
Tigerella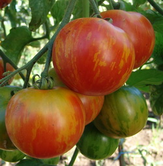 A particularly good flavour from a standard sized variety with unusual orange yellow stripes.
Roma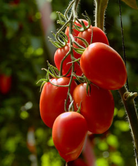 Italian, plum shaped tomato.
Symptoms and their Causes
Hard green areas on the 'shoulder' of the fruit: This is known as greenback. These areas remain hard and unpalatable as the rest of the fruit ripens. The causes are usually excess light, high temperatures, and/or insufficient feeding.
Blotchy ripening and internal areas of white or yellowish tissue: Known as whitewall, the causes, as for greenback, are usually excess light, high temperatures, and/or insufficient feeding.
Black sunken area at the bottom of the fruit: Calcium deficiency in the fruit, usually caused by irregular watering.
Splits and cracks in the fruit: Usually caused by variable water supply.